Release Date: April 1, 2019
We Have Merged
We are excited to announce the merger of MJ Systems and Pacific Micro Inc. The combined companies will be called MJSI. In the coming weeks you will see changes to this website reflecting the change. Your rep will remain the same and there will be no change in the level of service you have come to know us by. Let us know if you have any questions, and we look forward to serving you in the future.
Sincerely,
The MJ Systems & Pacific Micro Teams
Our Company
Founded in 1992, MJ Systems, Inc. was one of the first large-scale networking distributors to embrace the Internet as a medium for conducting commerce. Our core values involve finding and providing value without cutting corners. We strive to provide total perfection for our customers. To that end, we offer top-quality components from the best companies in the industry, and we manufacture our own products to provide reliable parts without expensive prices. Our goal is for our customers to rely on the fact that all products purchased from us are of the highest standards and reliability.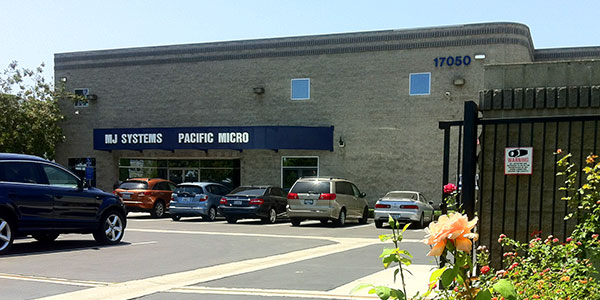 Contacting Us
MJ Systems, Inc.
Tel: (877) 246-7059
Tel: (626) 964-2000
Fax: (626) 964-3656
17050 Evergreen Place
City of Industry, CA 91745
For Sales information, email
comments@mjsystems.com