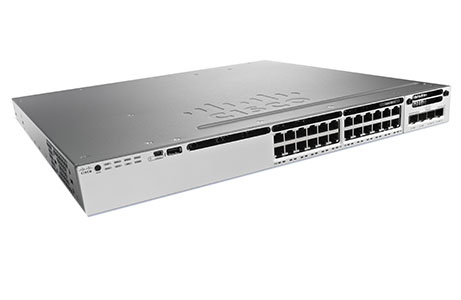 Cisco Catalyst 3850-24U-L - Switch - managed - 24 x 10/100/1000 (UPOE) - desktop, rack-mountable - UPOE
Part: WS-C3850-24U-L
Availability: Out of Stock
Price: $2,180.00
Product Information
Cisco Catalyst 3850-24U-L - Switch - managed - 24 x 10/100/1000 (UPOE) - desktop, rack-mountable - UPOE (800 W)

The Cisco Catalyst 3850 switch currently offers the industry's highest 480 Gbps stacking bandwidth to meet network demand, including gigabit desktop and 802.11ac wireless. The switch delivers advanced capabilities such as a high-performance 24 port GE switch, 480 G stacking, Power over Ethernet Plus, StackPower and flexible NetFlow on all ports.
The Cisco Catalyst 3850 switch brings Cisco IOS excellence to wireless by extending wired infrastructure features, resiliency, granular QoS, and scalability. It provides built-in wireless controller capabilities with 40 G wireless throughput, support for 50 access points and 2000 wireless clients per switch or stack, and support for 802.11ac.
The Cisco Catalyst 3850 switch delivers common intelligent services across wired and wireless for security and policy, application visibility and control, network resiliency, smart operations, and more. The switch can enable multi-level QoS based on granular information such as SSID, client, radio, application, and fair share policies for wireless.
Best-in-class stackable access switch
Converged wired and wireless access
Distributed intelligent services