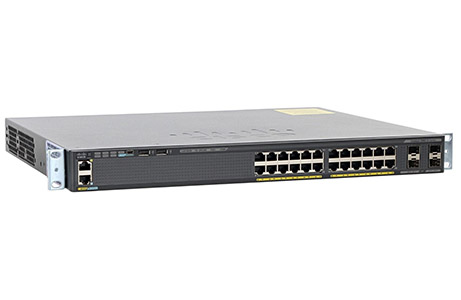 Cisco Catalyst 2960XR-24PS-I - switch - 24 ports - managed - desktop, rack-mountable
Part: WS-C2960XR-24PS-I
Availability: Out of Stock
Price: $1,120.00
Product Information
Cisco Catalyst 2960XR-24PS-I - Switch - L3 - managed - 24 x 10/100/1000 (PoE+) + 4 x Gigabit SFP - desktop, rack-mountable - PoE+ (370 W)

Cisco FlexStack-Plus stacking for Cisco Catalyst 2960-XR series switch provides a true stacking solution, with all switches in a FlexStack-Plus stack acting as a single switching unit. FlexStack-Plus provides a unified data plane and single configuration for a group of stacked Cisco Catalyst 2960-XR switch.
FlexStack-Plus lower the total cost of ownership with built-in 1: N redundancy, high availability, and preprovisioning, not available in standalone switches. High-availability features such as EtherChannel and FlexLinks will work across stack members, increasing uptime and network connectivity.
FlexStack-Plus is an improvement over FlexStack because it doubles the speed of the stack bandwidth and allows for more members to join the stack. The FlexStack-Plus bandwidth for a single stack member is 40 Gbps compared to 20 Gbps with FlexStack. With multiple stack members, the FlexStack-Plus bandwidth is 80 Gbps. With FlexStack-Plus technology, eight 2960-XR members can be joined into a single stack.
Device Type: Switch - 24 ports - L3 - managed - stackable
Enclosure Type: Desktop, rack-mountable 1U
Interfaces: Gigabit Ethernet
Ports: 24 x 10/100/1000 (PoE+) + 4 x Gigabit SFP
Power Over Ethernet (PoE): PoE+
PoE Budget: 370 W
Performance: Switching capacity : 216 Gbps
Forwarding performance (64-byte packet size) : 71.4 Mpps
Forwarding performance (64-byte packet size) : 71.4 Mpps
Capacity: Virtual interfaces (VLANs) : 1023
Jumbo Frame Support: 9216
Routing Protocol: OSPF, RIP-1, RIP-2, HSRP, VRRP, PIM-SM, PIM-DM, OSPFv3, PIM-SSM, policy-based routing (PBR), RIPng
Remote Management Protocol: SNMP 1, RMON 1, RMON 2, Telnet, SNMP 3, SNMP 2c, HTTP, TFTP, SSH, CLI
Features: Layer 3 switching, layer 2 switching, DHCP support, power over Ethernet (PoE), auto-negotiation, ARP support, trunking, VLAN support, auto-uplink (auto MDI/MDI-X), IPv6 support, Rapid Spanning Tree Protocol (RSTP) support, Multiple Spanning Tree Protocol (MSTP) support, Dynamic Trunking Protocol (DTP) support, Port Aggregation Protocol (PAgP) support, Trivial File Transfer Protocol (TFTP) support, Access Control List (ACL) support, RADIUS support, Jumbo Frames support, MLD snooping, Dynamic ARP Inspection (DAI), PoE+, Cisco EnergyWise technology, Unicast Reverse Path Forwarding (URPF), Uni-Directional Link Detection (UDLD), Rapid Per-VLAN Spanning Tree Plus (PVRST+), IPv4 support, Shaped Round Robin (SRR), Link Aggregation Control Protocol (LACP), Remote Switch Port Analyzer (RSPAN), NetFlow, Hot Standby Router Protocol (HSRP) support, Energy Efficient Ethernet
Compliant Standards: IEEE 802.3, IEEE 802.3u, IEEE 802.3z, IEEE 802.1D, IEEE 802.1Q, IEEE 802.3ab, IEEE 802.1p, IEEE 802.3af, IEEE 802.3x, IEEE 802.3ad (LACP), IEEE 802.1x, IEEE 802.3ae, IEEE 802.1s, IEEE 802.1ae, IEEE 802.1ab (LLDP), IEEE 802.3at, IEEE 802.3az, IEEE 802.1AX
Power: AC 120/230 V ( 50/60 Hz )
Power Redundancy: Optional
Dimensions: (WxDxH)17.5 in x 16.1 in x 1.8 in
Weight: 13.7 lbs