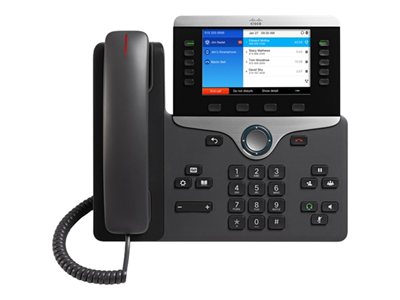 Cisco IP Phone 8851 - VoIP phone - SIP, RTCP, RTP, SRTP, SDP
Part: CP-8851-K9
Availability: In Stock
Price: $240.00
Product Information
Cisco IP Phone 8851 - VoIP phone - SIP, RTCP, RTP, SRTP, SDP - 5 lines

The Cisco IP Phone 8851 is a business-class collaboration endpoint that combines high-fidelity, reliable, secure, and scalable voice communications with Cisco Intelligent Proximity for telephony integration for personal mobile devices to support midsize to large enterprise businesses.
With the Cisco IP Phone 8851, you can increase personal productivity through an engaging user experience that is both powerful and easy-to-use. The IP Phone 8851 combines an attractive ergonomic design with wideband audio for crystal clear voice communications, "always-on" reliability, encrypted voice communications to enhance security, and access to a comprehensive suite of unified communication features from Cisco communication servers.
In addition, Cisco Intelligent Proximity brings the worlds of desk and mobile together for you when you are using your mobile device at the desk for your work. You can move the audio path over to the Cisco IP Phone 8851 during active mobile calls to take advantage of its superior audio acoustics. An example would be to share a conversation with a colleague who you want to listen in. This capability gives you greater flexibility and a superior user experience when at your desk.
The IP Phone 8851 also comes standard with a USB port so you can charge your smartphone when at your desk, and stay connected when away from your desk.
The Cisco IP Phone 8851 offers five programmable line keys. You can configure keys to support either multiple directory numbers or calling features such as speed dial. You can also boost productivity by handling multiple calls for each directory number using the multicall-per-line feature. Fixed-function keys give you one-touch access to applications, messaging, directory, as well as often-used calling features such as hold/resume, transfer, and conference. A five-way navigation cluster helps you transition through menus more easily. Backlit acoustic keys provide flexibility for audio path selection and switching