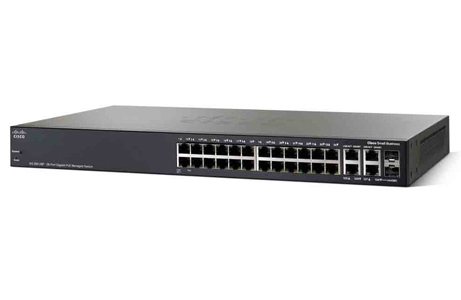 CISCO 250 SERIES SG250X-24 - SWITCH
Part: SG250X-24-K9
Availability: Out of Stock
Price: $430.00
Product Information
Cisco 250 Series SG250X-24 - Switch - L3 - smart - 24 x 10/100/1000 + 2 x 10 Gigabit Ethernet + 2 x 10 Gigabit SFP+ - rack-mountable

Next-generation 250 Series Smart Switches combine powerful performance and reliability with a suite of features that you need for a solid business network. With Smart Network Application, FindIT Network Manager, and Network Plug and Play (PnP) support, you can deploy and configure a complete business network in minutes.
Powerful capabilities
Easy setup and management
Performance and reliability
Energy efficiency
Features and benefits
Cisco 250 Series Smart Switches provide all of the features you need to create a basic business-class network at an affordable price. These features include:
● Easy configuration and management: Cisco 250 Series switches are designed to be easy to deploy and use by small businesses or the partners that serve them:
Smart Network Application (SNA) is an innovative network-level monitoring and management tool embedded in the Cisco 100 to 500 Series switches. It can discover network topology, display link status, monitor events, apply configurations, and upgrade software images across multiple switches in the network.
Simple or advanced-mode graphic user interfaces reduce the time required to deploy, troubleshoot, and manage the network. Configuration wizards simplify the most common configuration tasks and provide the ultimate tool for anyone to set up and manage the network.

Cisco Smartports technology provides more advanced capabilities and hands-on control by automatically configuring ports with specific levels of security, QoS, and availability according to the type of connected device, based on Cisco best practices and pretested configurations. The Auto Smartports feature automatically applies the intelligence delivered through the Smartports roles to the port based on the device types discovered over Cisco Discovery Protocol or LLDP-MED. This capability facilitates zero-touch deployments.
The USB port on the front panel of the switch enables easy image and configuration transfer for faster deployment or upgrades.
● Reliability and performance: Cisco 250 Series switches have been tested to deliver the high performance and reliability you would expect from a Cisco switch and help you prevent costly downtime. The switches speed file transfer times, improve slow and sluggish networks, keep your vital business applications available, and help your employees respond more quickly to customers and each other. With a network based on Cisco 250 Series switches, you can address all of your business communications and connectivity needs and reduce the total cost of ownership of your technology infrastructure. Cisco 250 Series switches also support 10 Gigabit Ethernet uplinks on select models, so you can build a high-performance and future-ready network to support your thriving business.
● Layer 3 static routing: This capability allows you to segment your network into separate workgroups and communicate across VLANs without degrading application performance. As a result, you can manage internal routing with your switches and dedicate your router to external traffic and security, helping your network run more efficiently.
● Power over Ethernet Plus (PoE+): Cisco 250 Series switches are available with PoE+ on both Fast Ethernet and Gigabit Ethernet models. This capability simplifies the deployment of IP telephony, wireless, video surveillance, and other solutions by allowing you to send data and power to network endpoints over the single network cable, eliminating the need for separate power supplies or outlets. PoE+ provides up to 30W of power per port, enabling deployments for 802.11ac wireless access points, Pan-Tilt-Zoom (PTZ) IP cameras, videophones, and thin client devices, delivering more flexibility and investment protection.
● PoE powered device and PoE pass-through: The 10-port compact models of Cisco 250 Series can work as PoE powered devices and draw power from upstream PoE switches in the wiring closet, simplifying the deployment in meeting rooms, classrooms, hotel rooms, and other flexible locations. Each switch can accept up to 60W of power per uplink port to power itself and pass through the power to the downstream PoE end devices if needed.
● Network security: Cisco 250 Series switches provide the security and network management features you need to maintain a high level of security for your business, keep unauthorized users off the network, and protect your business data. The switches include integrated network security to reduce the risk of a security breach, with IEEE 802.1X port security to control access to your network, Denial-of-Service (DoS) attack prevention to increase network uptime during an attack, and extensive Access Control Lists (ACLs) to protect sensitive portions of the network from unauthorized users and guard against network attacks.
● IPv6 support: As the IP network addressing scheme evolves to accommodate more devices, you can have peace of mind that your network is ready. Cisco 250 Series switches provide native support for IPv6 alongside traditional IPv4. With USGv6 and IPv6 Gold Logo certifications, the 250 Series will enable you to take full advantage of IPv6-enabled operating systems and applications in the future, without having to upgrade your network equipment.
● IP telephony support: Cisco 250 Series switches include QoS features to prioritize delay-sensitive services such as voice and video, simplify unified communications deployments, and help ensure consistent network performance for all services.
● Networkwide automatic voice deployment: Using a combination of Cisco Discovery Protocol, LLDP-MED, Auto Smartports, and Voice Services Discovery Protocol (VSDP, a unique, patented Cisco protocol), customers can deploy an end-to-end voice network dynamically. The switches in the network automatically converge into a single voice VLAN and set of QoS parameters and then propagate them out to the phones on the ports where they are discovered. For example, automated voice VLAN capabilities let you plug any IP phone (including third-party phones) into your IP telephony network and receive an immediate dial tone. The switch automatically configures the device with the right VLAN and QoS parameters to prioritize voice traffic.
● An energy-efficient solution: Cisco 250 Series switches are designed to be energy efficient and eco friendly without compromising performance. They help conserve energy by optimizing power use, which helps protect the environment and lowers your energy costs. Power-saving features include:
◦ Support for the Energy Efficient Ethernet (IEEE 802.3az) standard, which reduces energy consumption by monitoring the amount of traffic on an active link and putting the link into a sleep state during quiet periods
◦ Automatic power shutoff on ports when a link is down
◦ Embedded intelligence to adjust power based on cable length
◦ Fanless design in most models, which reduces power consumption, increases reliability, and provides quieter operation
◦ Ability to turn off LEDs to conserve power