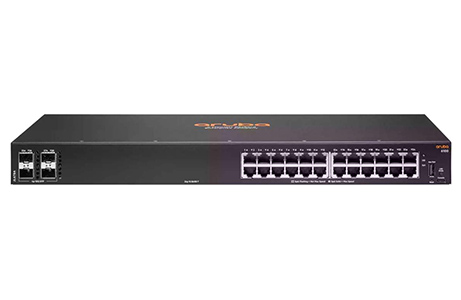 HPE Aruba 6100 24G 4SFP+ JL678A 28 Port Switch
Part: JL678A
Availability: Out of Stock
Price: $0.00
Product Information
HPE Aruba 6100 24G 4SFP+ Switch - Switch - managed - 24 x 10/100/1000 + 4 x 1 Gigabit / 10 Gigabit SFP+ - side to side airflow - rack-mountable

The Aruba CX 6100 switch series is a modern family of entry-level access switches ideal for branch offices, mid-market enterprise, and SMB networks. Designed for reliable, simple, and secure access, the Aruba CX 6100 switch provides a convenient wired access solution for enterprise networks supporting IoT, mobile, and cloud applications. Prepare your network for unpredictable demands with a powerful Aruba ASIC architecture and programmable AOS-CX operating system used across the Aruba CX portfolio to deliver a more consistent, more efficient operator experience. This switch series has convenient built-in high-speed uplinks to support IoT devices such as security cameras and wireless APs. A compact and fanless model is ideal for use in quiet work spaces
The Aruba CX 6100 Switch Series offers gigabit connectivity with high speed uplinks and optional PoE to provide entry level, reliable, and convenient wired access connectivity for enterprise branch office and SMB networks.
Using Aruba AOS-CX operating system across Aruba CX switching platforms and deployment domains provides a simpler, more consistent operator experience.
Fully-managed enterprise class switches deliver Layer 2 capabilities with support static routing, ACLs, robust QoS, traffic prioritization, sFlow, and IPv6 support.
Right size deployment with choice of 12, 24, and 48 port 1U models with convenient built-in 1/10 GbE uplinks and up to 370W of Class 4 PoE.
Simplifies ownership with no switch software licensing or subscriptions required.