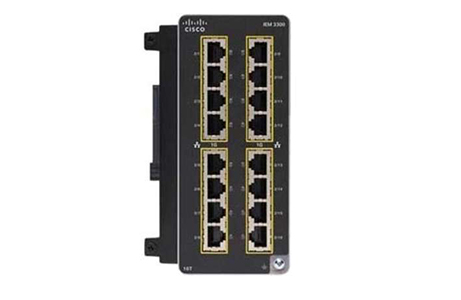 Cisco Catalyst - IEM-3300-16T Expansion Module - Gigabit Ethernet x16
Part: IEM-3300-16T
Availability: In Stock
Price: $3,400.00
Product Information
Cisco Catalyst - Expansion module - Gigabit Ethernet x 16 - for Catalyst IE3300 Rugged Series

The Cisco Catalyst IE3300 Rugged series switches deliver advanced, high-speed Gigabit Ethernet connectivity in a compact form factor, and are designed for a wide range of industrial applications where hardened products are required. The modular design of the Cisco Catalyst IE3300 Rugged series offers the flexibility to expand up to 26 ports of Gigabit Ethernet with a range of expansion module options. The platform is built to withstand harsh environments in manufacturing, energy, transportation, mining, smart cities, and oil and gas. The IE3400 platform is also ideal for extended enterprise deployments in outdoor spaces, warehouses, and distribution centers.

The IE3300 series runs Cisco IOS XE, a next-generation operating system with built-in security and trust, featuring secure boot, image signing, and the Cisco Trust anchor module. Cisco IOS XE also provides API-driven configuration with open APIs and data models.
The Cisco Catalyst IE3300 Rugged Series can be managed with powerful management tools such as Cisco DNA Center and Industrial Network Director, and can be easily set up with a completely redesigned, user-friendly, modern GUI tool called WebUI. The platform also supports Full Flexible NetFlow (FNF) for real-time visibility into traffic patterns and threat analysis with Cisco Stealthwatch.